FCU – PWT Energy-saving Model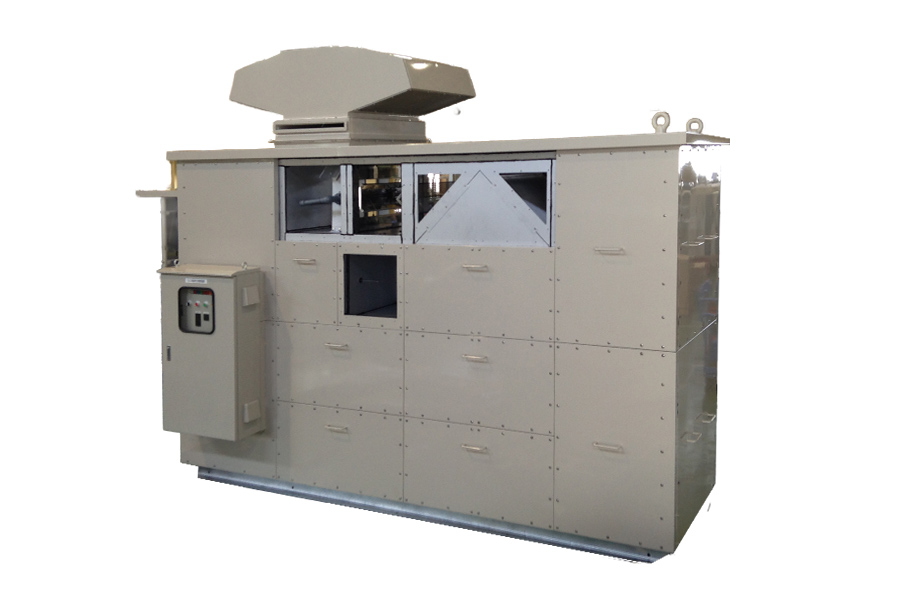 The model uses the aluminum plate sensible heat exchanger PWT to use the heat energy recovered from the warm outdoor air to heat the supply air.
Features
Reducing cooling coil loads by recovering heat from the PWT.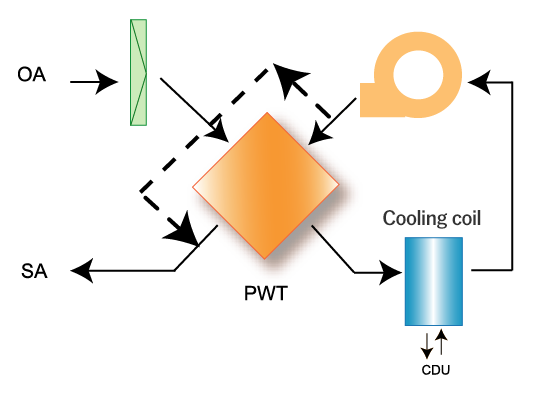 Click here for details on Aluminum Plate Sensible Heat Exchanger PWT®.
Specification Table
Supply air dew point temperature: 7 ℃ (50 Hz / 60 Hz)
| | FCU-431P | FCU-112P | FCU-222P | FCU-332P |
| --- | --- | --- | --- | --- |
| Rated air volume (m3/h at 20 °C) | 430/430 | 1000/1180 | 1900/2230 | 2840/3340 |
| Chiller: Nominal output (kW) | 2.2 | 6.0 | 12.0 | 19.4 |
| Chiller: Cooling capacity (kW) | 8.5 | 22.4 | 44.5 | 70.2 |
| Chiller: Rated current (A) | 11.1/12/0 | 25.9/29.1 | 46.3/47.3 | 76.7/78.3 |
| PWT model | SG-040/D-30 | SG-050/X-30 | SG-050/L-40 | SG-050/L-80 |
| Blower (kW) | 0.4 | 0.75 | 1.5 | 2.2 |
| External static pressure (Pa) | 300 | 300 | 300 | 300 |
| Dimensions: L×W×H (mm) | 2500×1000×1900 | 2800×1200×1950 | 2300×1950×2000 | 3000×2400×2100 |
| Approximate weight (kg) | 500 | 1000 | 1500 | 2100 |