Sustainability

Environment

Message from the President
Toshimi Kuma, the founder of Seibu Giken Co., Ltd. turned his attention to global environmental issues early on, and since then, we have developed and delivered energy-saving products and products that contribute to reducing environmental impact throughout the world. Even before recent initiatives aimed at carbon neutrality started gaining momentum, the starting line for the company was to engage in Monozukuri (manufacturing) with an awareness of contributing to society. Devoted to our purpose, "Provide green air solutions for every environment," our mission is to continue creating products that solve environmental issues for realizing a climate-neutral future.
At the same time, it is our responsibility to reduce CO2 emissions throughout the company's entire value chain. We consider utilizing renewable energy and continue to improve energy efficiency. Over the long term, we strive to contribute as much as possible to efforts to achieve carbon neutrality by 2050.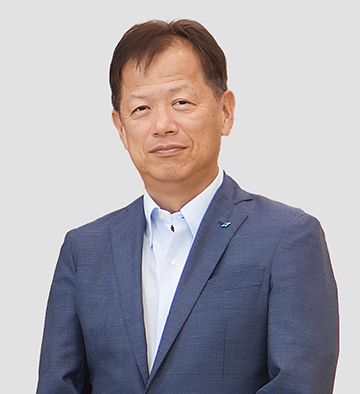 Environmental Policy
In accordance with our Environmental Policy, the Seibu Giken Group is committed to reducing the environmental impact of our daily operations and to realizing a climate-neutral future.
1. Global deployment of environmentally friendly products and solutions
We develop products that utilize our proprietary technologies and diverse array of innovations to reduce environmental impact on a global scale, and we provide solutions that help our customers around the world reduce their environmental impact.
2. Reducing environmental impact throughout the value chain
Amid the need to build a circular economy, we strive to reduce environmental impact throughout the value chain via responsible procurement and by initiating the 3Rs (Reduce, Reuse, Recycle) and the effective use of resources and products.
3. Communication with society
To realize a sustainable society, we continue to comply with the environmental laws and regulations of each country in which we operate and global social norms, and we engage in communication and alliance with society.
4. Preserving biodiversity
We engage in voluntary activities to raise awareness both inside and outside the company toward the creation of a society that fosters biodiversity.
Risks and opportunities associated with environmental measures
We believe that considering environmental issues including climate change will reduce risks in our business operations and lead to new business opportunities and enhanced management capacity.
We continue to make initiatives aimed at minimizing risks and maximizing opportunities.
Category
Risk
Opportunity
Climate change

Political Risk

・ Cost of compliance with stricter regulations
・ Requests from business partners to respond to climate change
・ Increased cost due to carbon pricing
・ Losses due to a delayed response to ESG
・ Opportunity losses due to delayed information disclosure

Physical Risk

・Risks of getting damage with assets and facilities caused by natural disasters
・Risk of deterioration of working conditions due to global warming
・ Improved corporate value and reputation
・ Improved efficiency through the reduction of overburden, waste, and irregularity
・ Stabilized energy costs
・ Expanded collaboration with financial institutions and other partners
・ Development of new services, products, and systems

Industrial waste
・ Impact on the surrounding environment
・Impact on workers' health
・ Gaining trust with monitoring and countermeasures
・ Improved occupational safety and health
Materials
・ Regulations on material reductions and risk of cost increases
・ Improved efficiency from the consideration of alternative materials and the reduction of total materials used
Seibu Giken's "Climate Action 2030"
In order to achieve climate neutrality by 2050, we have set three action goals as our key priorities.
In these activities, we aim to contribute to achieving Goal 12 (Ensure sustainable consumption and production patterns) and Goal 13 (Take urgent action to combat climate change and its impacts) of the Sustainable Development Goals (SDGs) adopted by the United Nations in 2015. Furthermore, we aim to contribute to achieving the following targets.

12.5
By 2030, substantially reduce waste generation through prevention, reduction, recycling and reuse.

13.3
Improve education, awareness-raising and human and institutional capacity on climate change mitigation, adaptation, impact reduction and early warning.
01

Reduce CO2 emissions from electricity consumption
Mid-to-long-term target for reducing greenhouse gas emissions
In response to the growing demand for a decarbonized society, we have set mid-to-long-term goals for the company.
We strive to reduce electricity-derived emissions by 2030 by utilizing renewable energy and accelerating energy-saving measures. After that, we will work to reduce fuel-derived emissions by 2050 in step with technological developments.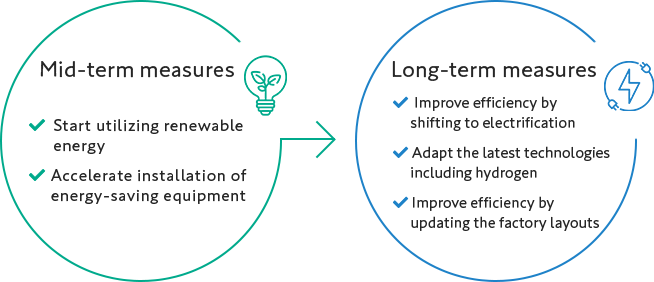 Current status of CO2 emissions
Breakdown of greenhouse gas emissions (Jan. – Dec. 2021)Seibu Giken generated approximately 3,910 t of greenhouse gas emissions in 2021. About 40% of these emissions were derived from the use of fossil fuels, and more than 50% were from electricity usage. In the short term, we consider specific approaches to reduce electricity-derived emissions. We believe it will be necessary to start utilizing renewable energy by installing solar power generation equipment and other means and to promote initiatives aimed at improving energy efficiency through insulation and operational improvements at factories.
Category
Emissions(t-CO2/ year)
Primary source of emissions
Scope1
1,690t
43.17%
Emissions from combustion of fossil fuels at the head office and the factories
Scope2
2,220t
56.83%
Emissions from the use of electricity at the head office and the factories
Note: Because of rounding, some values may not match up.
Plan to reduce greenhouse gas emissions by 2030
First and foremost, we aim to reduce and stabilize energy costs through direct efforts to reduce emissions generated by the company.
We operate five factories throughout Japan. To reduce emissions at these factories and the Innovation Center, where we conduct research and development, we are not only encouraging daily energy-saving activities at each site, we are also considering the use of renewable energy and other measures.
Furthermore, we consider procuring non-fossil certificates in response to social needs.
| Measure | Fiscal year | CO2emissions reduction | Key performance indicator (KPI) |
| --- | --- | --- | --- |
| Purchase of non-fossil certificates | To be considered from FY2024 onwards | Maximum 2,200 t | Amount procured (kWh) |
02

Expand Avoided Emissions by developing and delivering our products and services to the world

We provide products that contribute to reducing the environmental impact of the users of our products. Our products contribute to the reduction of Scope 1 or Scope 2 emissions of our partner companies, and this is evaluated in our Scope 3. We continue working on quantifying our contribution to Avoided Emissions as well as the lifecycle emissions of each of our products.
03

Monitor and reduce environmental impact throughout the value chain

Environmental considerations cover a wide range of areas, and we believe that various aspects of our business activities have an impact on the environment throughout the entire value chain. Considering the importance of reducing emissions in a reasonable manner that does not impair the functions and benefits of our products as well as the social demands that we are expected to respond to as a manufacturer, we will promote and consider the following initiatives.
Environmental activity
Fiscal year
Outcome
KPI
Reduce industrial waste
Implementation ongoing
Improve the efficiency of resources for CO2 reduction
Amount of industrial waste disposed
Develop and design to reduce the environmental impact of our products
(Promote DfE)
Under consideration
Improve the efficiency of resources for CO2 reduction
Number of shared parts
Reduce the environmental impact of the transportation of products and materials
(Modal shift)
2025
CO2reduction
Modal shift adoption rate
Assessment and understanding of environmental impact for each product
2025
Ensure traceability
Number of traced products
Consider mid-to-long-term production efficiency improvements
Item for long-term consideration
Improve the production environment
Status of consideration
Other environmental activities
Initiatives other than direct energy measures
| Environmental activity | Fiscal year | Outcome | KPI |
| --- | --- | --- | --- |
| Identification and reduction of PRTR substances | Implementation ongoing | Reduction of emissions | Periodic measurement and identification |
| Substitute change of solvent used | Under consideration | Resource Consumption Occupational Health and Safety | Whether to introduce a less loaded substance |