FCU Basic Model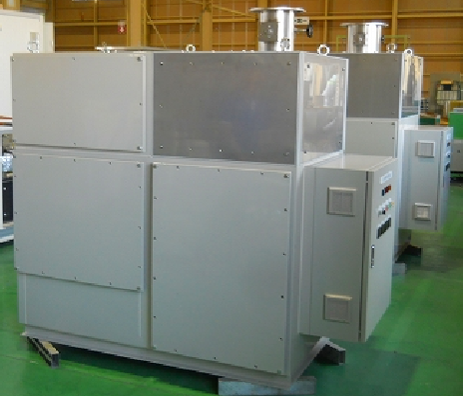 The basic model uses a reheat system. In this system, the aluminum plate sensible heat exchanger (PWT) uses heat energy recovered from warm outdoor air to heat the supplied air.
On the other hand, the heat energy recovered from the cold air after it passes through the cooling coil is used primarily to cool the warm outdoor air.
Installing the PWT this way reduces the capacity of cooling coils and other components, contributing to overall energy savings.
Features
1. Low humidity air with a dew point temperature of 7 °C can also be supplied.
2. Cooling and dehumidification from mid-season to winter humidity.

Specification Table
Supply air dew point temperature: 7 °C (50 Hz/60 Hz)
| | FCU-431 | FCU-112 | FCU-222 | FCU-332 |
| --- | --- | --- | --- | --- |
| Rated air volume (m3/h at 20 °C) | 430/430 | 1000/1180 | 1900/2230 | 2840/3340 |
| Chiller: Nominal output (kW) | 3.0 | 7.4 | 14.8 | 22.2 |
| Chiller: Cooling capacity (kW) | 10.4 | 28.2 | 53.3 | 79.8 |
| Chiller: Rated current (A) | 13.3/15.4 | 32.5/37.9 | 56.4/57.2 | 84.6/85.8 |
| Reheater: Installed capacity (kW) | 2.4 | 6.3 | 12.0 | 18.0 |
| Blower (kW) | 0.4 | 0.75 | 1.5 | 2.2 |
| External static pressure (Pa) | 300 | 300 | 300 | 300 |
| Dimensions : L×W×H (mm) | 1800×1000×1900 | 2100×1200×1950 | 2300×1950×2000 | 3000×2400×2100 |
| Approximate weight (kg) | 400 | 800 | 1250 | 1750 |