Rotor Replacement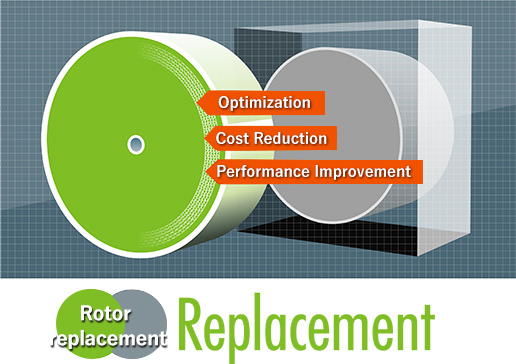 Rotor replacement for products from other manufacturers is also possible.
Please count on rotor replacement to Seibu Giken.
Benefits of Rotor Replacement
1. Can operate at its full potential
2. Possibility to upgrade to a more efficient rotor than that initially installed
3. Reduces the load on ancillary equipment
Timing of Rotor Replacement
Honeycomb rotors will inevitably experience performance degradation over time, requiring eventual replacement.
Continuing to use a deteriorated rotor imposes unnecessary stress on ancillary equipment.
The extent of deterioration can be determined through regular inspections. Please feel free to reach out to us.
By replacing with a new rotor, not only can the equipment operate at its full potential, but in some cases, it can even be replaced with a more efficient rotor than the one initially installed.
This improves the equipment's capability and can reduce running costs and potentially downgrade related equipment specifications, affecting the entire system.
Physical damage
Signs of aging
High-boiling-point substances or chemicals are present
Clogging
Periodic replacement
Recommendation of replacement time based on deterioration analysis
Flow of Replacement Work
Contact us

Estimate

Schedule adjustment

Replacement work ( 1 – 4 days)

Test operation